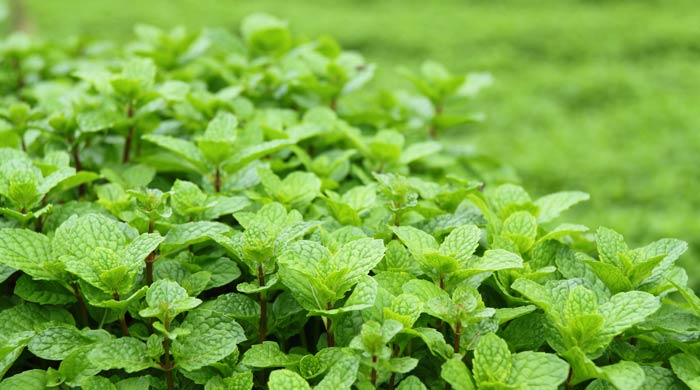 Peppermint
(
Mentha × piperita
, also known as
M. balsamea
Willd.) is a hybrid mint, a cross between watermint and spearmint.The plant, indigenous to Europe and the Middle East, is now widespread in cultivation in many regions of the world.
[3]
It is found wild occasionally with its parent species.
Botany
Peppermint was first described in 1753 by Carl Linnaeus from specimens that had been collected in England; he treated it as a species, but it is now universally agreed to be a hybrid. It is a herbaceous rhizomatous perennial plant growing to 30–90 cm (12–35 in) tall, with smooth stems, square in cross section. The rhizomes are wide-spreading, fleshy, and bare fibrous roots. The leaves are from 4–9 cm (1.6–3.5 in) long and 1.5–4 cm (0.59–1.57 in) broad, dark green with reddish veins, and with an acute apex and coarsely toothed margins. The leaves and stems are usually slightly fuzzy. The flowers are purple, 6–8 mm (0.24–0.31 in) long, with a four-lobed corolla about 5 mm (0.20 in) diameter; they are produced in whorls (verticillasters) around the stem, forming thick, blunt spikes. Flowering is from mid to late summer. The chromosome number is variable, with 2n counts of 66, 72, 84, and 120 recorded. Peppermint is a fast-growing plant; once it sprouts, it spreads very quickly.
Culinary and other uses
According to a document issued by the South African Department of Agriculture, the Roman author Pliny in his Natural History tells us that the Greeks and Romans crowned themselves with peppermint at their feasts and adorned their tables with its sprays, and that their cooks flavoured both their sauces and their wines with its essence. However, there is no evidence that peppermint in the strict sense (Mentha x piperita) existed in Pliny's day (or at any time before it was hybridised in the London area shortly before the eighteenth century): in scholarly translations the Latin word he used is translated as "mint", not "peppermint".Nor can a reference be found in Pliny to persons crowning themselves with mint at their feasts.
Peppermint is the oldest and most popular flavour of mint-flavoured confectionery and is often used in tea and for flavouring ice cream, confectionery, chewing gum, and toothpaste. Peppermint can also be found in some shampoos, soaps and skin care products.
Menthol activates cold-sensitive TRPM8 receptors in the skin and mucosal tissues, and is the primary source of the cooling sensation that follows the topical application of peppermint oil.
Peppermint flowers are large nectar producers and honey bees, as well as other nectar harvesting organisms, forage them heavily. A mild, pleasant varietal honey can be produced if there is a sufficient area of plants.
Peppermint oil
Peppermint oil has a high concentration of natural pesticides, mainly pulegone (Found mainly in Mentha arvensis var. piperascens Cornmint, Field Mint, Japanese Mint and to a lesser extent-6,530 ppm in Mentha x piperita subsp. nothosubsp. piperita) and menthone.
The chemical composition of the essential oil from peppermint (Mentha x piperita L.) was analyzed by GC/FID and GC-MS. The main constituents were menthol (40.7%) and menthone (23.4%). Further components were (+/-)-menthyl acetate, 1,8-cineole, limonene, beta-pinene and beta-caryophyllene.

O Άγριος Δυόσμος (Peppermint Mitcham) προέρχεται από το φυτό με την κοινή ονομασία Μentha Piperita. Το αιθέριο έλαιο του Άγριου Δυόσμου προέρχεται από διύλιση των ανθών και των φύλλων του έχοντας ένα δροσερό χαρακτηριστικό άρωμα.
Το αιθέριο έλαιο του Άγριου Δυόσμου χρησιμοποιείται στην αρωματοθεραπεία ως αναλγητικό (παυσίπονο), τοπικό αναισθητικό, αντισπασμωδικό, τονωτικό, διεγερτικό, για ναυτία, πυρετό, πονοκέφαλο, βελτίωση της αναπνοής και αύξηση πνευματικής διαύγειας και μνήμης.
Το αιθέριο έλαιο του Άγριου Δυόσμου συνδυάζεται πολύ καλά με: Lavender, Benzoin, Cedarwood, Cypress, Mandarin, Marjoram, Niouli, Rosemary and Pine.
Visit us
Polis Herb Garden Restaurant
24 Avenue Makariou, Polis, Cyprus